Now through October first, I am running an
Early Bird Christmas Card Event
. Any portrait session is only
$125, and that will include 50 of my stunning Christmas Cards (size and design limits apply.)
My regular $400 deposit requirement will be waived for this event. Also, if you have already had your portrait session, and want to do a
custom Christmas Card (any size or design)
, and if you order before October 1, you can receive
20% off your entire card order
. Call me at (801) 556-1661 for more details.
Please note that
I only have 3 days left
available for Early Bird Sessions: September 27, 29, 30. Sessions are typically scheduled for around sunset to take advantage of the best light.
In conjunction with the Early Bird Event, I am spotlighting two locations: The first is S
ilver Lake at Brighton
. The aspens and low brush are just turning gold, and I anticipate the leaves will peak in about 7-10 days. The advantage to this location is it's accessibility (nice level boardwalk - no hiking required. Great for older adults or young children.) The disadvantage will be it's accessibility (ironic, huh?) It will probably be fairly crowded. If you book one of my late September days, and choose Silver Lake as your location, I will waive the regular $30 travel fee. (Excuse the poor photo quality - all I had today was my iPhone!)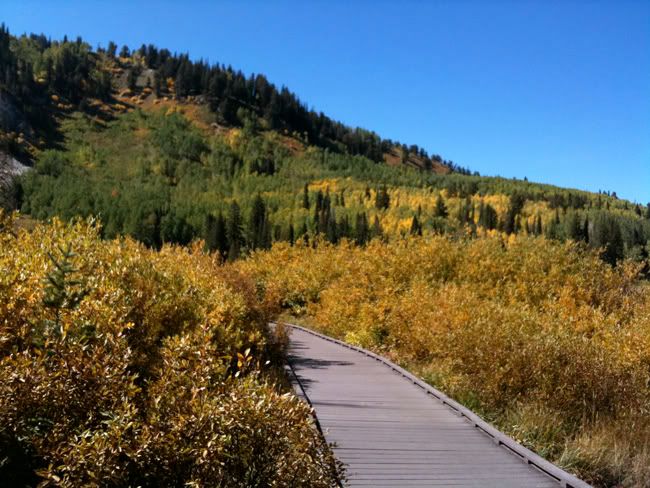 The second location I love right now is Fairview Canyon. Picture rolling hills of grass and sage accented by huge groves of Aspens. My sister lives nearby, and every time I visit her, I long to do a family session in this stunning scenery. The leaves will probably be prime in about 7-10 days from now, and will feature that signature Aspen gold. The disadvantage of this location is its 2.5 hour drive from my base in West Jordan. It would be a half-day adventure, but the drive through Spanish Fork Canyon is breath-taking. You could make a day of it complete with a picnic and your own photographic safari. If you want to take advantage of this unique, one-of-a-kind location before October 1, I will only charge a $30 travel fee, instead of my usual $100.
(Again, forgive the iPhone photo.... I was trying to relax with the kids and forbade myself from bringing my real camera. You can even see my fishing line on the left! For the record, one good nibble, no fish.)